Our Teachers & Staff ...
Here at The Jam Cellar, we boast a crew of instructors that we can really say is unrivaled anywhere in the country. Whether the dance be Lindy Hop, Charleston, Balboa or even Collegiate Shag, our instructors are sought after all over the world as some of the best teachers, performers and dancers in the world.
Here they are...
Al Mattei
Al (also known as Bigg Al) started learning vernacular jazz partner dancing on December 4, 1997 at a restaurant called Katmandu in Trenton, N.J. Throughout his social dance career, he has taken a comparative approach to the art form because many of the places he learned to dance had multiple classes in different dance styles. He has taken at least a beginner lesson in 32 different kinds of partner dance, and in 2003, he completed a 24-week course in D.C. hand dance. Al currently films the lesson clips that you can see on youtube.com/jamcellar, and is Jam Cellar's Glen Echo volunteer coordinator. Taking a cue from Leon James, he has an unusual collection of vertically-striped socks.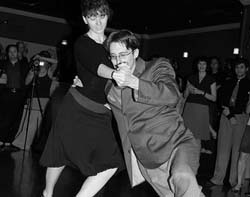 Bobby White
Bobby has been a devout student of all things swing. Whitey's speed lindy, Balboa, Collegiate Shag, all styles Lindy Hop, air steps, tricks and vernacular jazz, and choreography are all passions he has been studying since 1998. He also has a great love of teaching and hopes to pass along the enormous swing-inspired smiles that make people walk a good distance away from you on the street.
While some people are proud to hold trophies or world records for dance marathons, he is proud to have held a jar of duck preserved in it's own fat (which he won in a Balboa competition in France).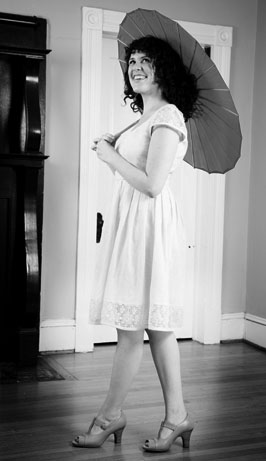 Chelsea Lee
Chelsea got bit by the swing dance bug in 2007. Since then she has fallen in love with Balboa, Lindy Hop, Collegiate Shag, and a bunch of other swing dances she would love to talk with you about, or, better yet, dance with you. She is known for her infectious smile and creativity on the dance floor and is proud to have won awards at events like All Balboa Weekend, the Eastern Balboa Championships, and Hot Rhythm Holiday. She has taught with her partner David at events such as the Eastern Balboa Championships, the Twin Cities Balboa Festival, the Canadian Balboa Championships, Hot Rhythm Holiday, and Shag Explosion, and was a special guest mentor for the 2012 Balboa Experiment. As a teacher, she brings enthusiasm, organization, and an appreciation for students' different learning styles as they explore the dance. She loves being a part of the Jam Cellar crew.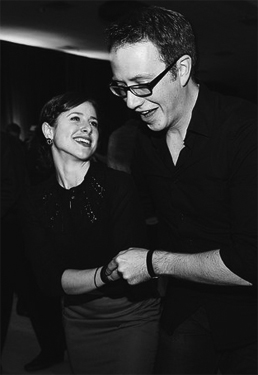 Crista Seipp
Crista fell in love with lindy hop in DC in 2002 and has spent much of her spare time since then on the social dance floor. She is currently an active competitor, teacher, performer, and social dancer, and does as much traveling to dance events as she can. Crista has won and placed in national and international competitions including Camp Jitterbug, The Boston Tea Party, and the International Lindy Hop Championships. Her focus as a dancer and teacher is on bringing personal style and musicality to the dance while emphasizing connection, technique, and having fun.
Curtis Breitenlohner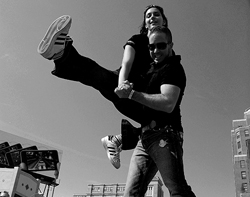 Doug Van Sant
Doug Van Sant found lindy hop in the summer of 2006 while living in San Francisco. And after just a few months, moved to DC and became a permanate fixture within the Jam Cellar scene. Within the few years he's been dancing, Doug has placed in competitions such as Camp Hollywood, Boston Tea Party, ALHC, and DC's own International Lindy Hop Championships. Doug is also an avid member of the DC nightlife community, photographing some of the biggest DJs in the business and hosting events at some of DC's best nightclubs. Doug credits his quick learning on the dance floor to many years of dancing at clubs and his ability to hear rhythm in all types of music.
David Lee
David has been passionate about swing dancing since he first started in 2006. He loves to share his enthusiasm for Lindy Hop, Balboa, Collegiate Shag, Charleston, and numerous other swing dances. He is known for his musicality and creativity on and off the dance floor and excels at breaking down mechanics in a way that is accessible to dancers of all levels and learning styles. His dance accomplishments include placements at All Balboa Weekend, the International Lindy Hop Championships, Lindy Focus, and Hot Rhythm Holiday. He has taught with his partner Chelsea at events such as the Eastern Balboa Championships, the Twin Cities Balboa Festival, the Canadian Balboa Championships, Hot Rhythm Holiday, and Shag Explosion, and was a special guest mentor for the 2012 Balboa Experiment. He loves being a member of the Jam Cellar crew.
Greg Stasiewicz
One summer in high school, Greg went to a swing dance and despite not being sure if he ever got the basic step right that night, the experience struck a spark that ignited a desire to learn to swing dance. Unfortunately, a similar spark ignited at the venue 3 nights later burned the building to the ground. Several months later he saw an ad for another local dance and that, as they say, is history. When he moved to DC from North Carolina in 2008, he fell in love with the DC swing scene. Now he is having fun dancing and trying not to forget what he learns every Tuesday. Greg works mostly behind the scenes maintaining the Jam Cellar website.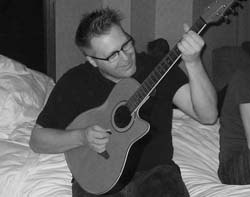 Jeff Booth
Jeff has been dancing for a nearly twelve years(!). A swing dance history enthusiast, Jeff has amassed one of the most extensive collections of classic swing dance footage in the country. As DC's own swing dance historian, Jeff helps people learn while keeping sight of lindy hop's roots. He has been teaching for over nine years and is sought after for his specialized knowledge. He is also an accomplished musician who, in a former life, appeared on MTV with his band.
Jerry Almonte
Julia Seymour
Julia Seymour is the Tuesday night volunteer coordinator for The Jam Cellar. She fell in love with swing dancing after attending a dance in spring 2007. Since that time, Julia has expanded her knowledge of the dance exploring lindy hop, balboa and charleston. Her passion is social dancing and introducing non-dancers to swing. She dances frequently in DC including at The Jam Cellar each week and often travels to other cities to dance.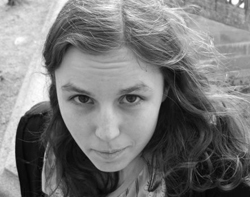 Kate Hedin
Kate has instructed and performed extensively for Cleveland's Get Hep Swing as well as in workshops throughout America and in Europe. Aside from a love of both social and performance Lindy Hop, it is her passion to develop the opportunities for follows in Balboa and learn every follow's footwork variation possible.
Kate holds 1st place titles in the Eastern Balboa Championship's Invitational Jack & Jill (2004, 2006) & Intergalactic Strictly (2005), and the American Open Lindy Jack & Jill (2004). She is also proud to have held, along with her friends at Get Hep Swing in Cleveland, the Guiness World Record for longest dance party ever (52 hours, 3 minutes).
She also likes to climb trees.
Meg Taylor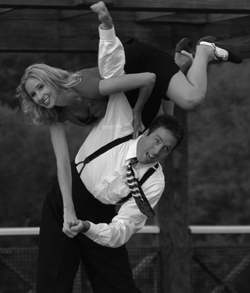 Michelle Searle
Michelle began dancing Lindy Hop in 2000, when she began studying under the infamous John "Psychoboy" McCalla and his partner Heather "The Feather" Vandereau. Since then, Michelle has traveled the world feeding her passion for the eccentric dance.
Michelle's awards include multiple first, second and third place trophies in Open and Amateur Showcases and Open Jack & Jill at the Virginia State Open Dance Competition and at Swing Fling, Northern VA. Michelle also placed in the top 7 dancers at the American Lindy Hop Championships in the Open Jack and Jill Division. One of Michelle's biggest honors was being asked to participate in the National Mall's dedication of the WWII National Monument as a member of the "Tribute Swing Dancing Team". Michelle is extremely excited to be a part of the Jam Cellar the teaching staff. DC!
Zhlagas "Z" Adilov